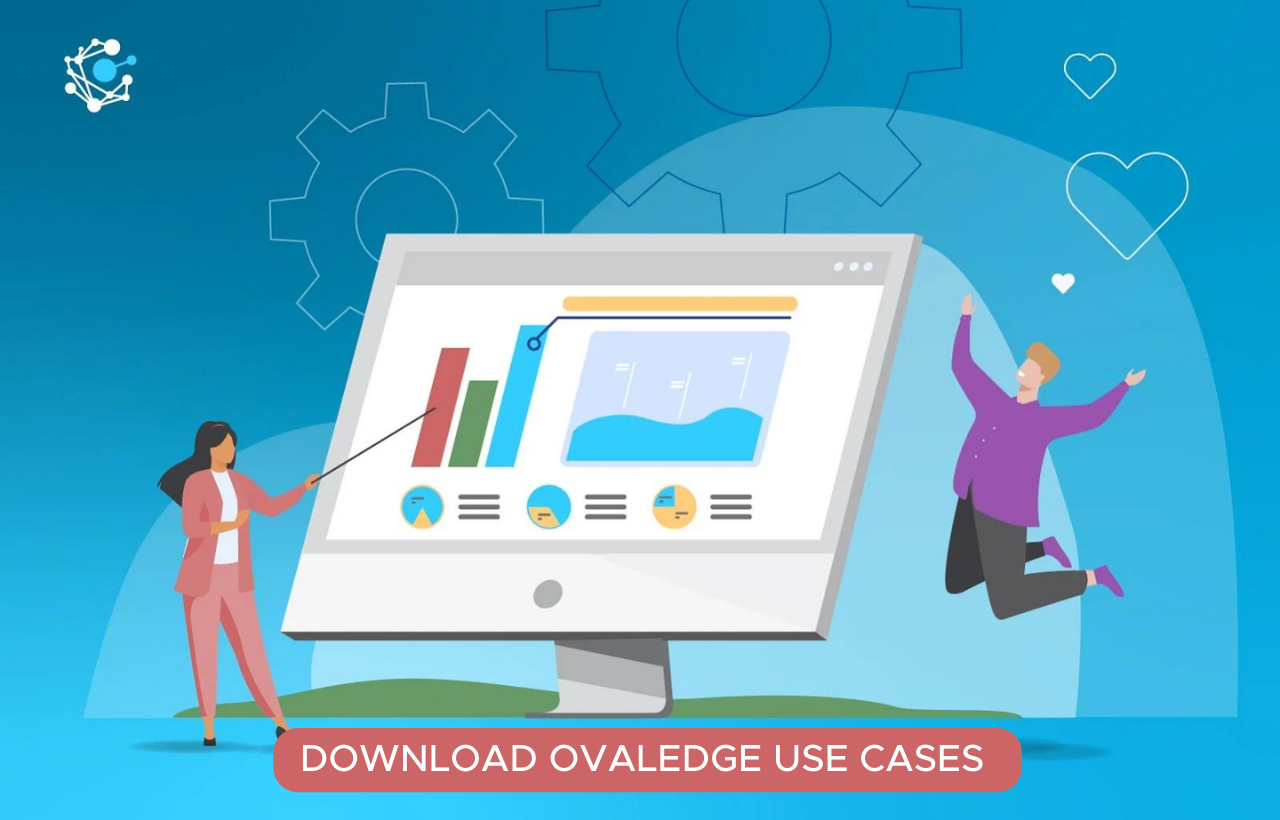 Top 5 Data Governance Use Cases
It's almost impossible to emphasize how important data is to both people and industry. Not only is data at the heart of most business operations, but there is also increasing pressure from customers to have visibility of what's being stored, how, and why.
Despite this, about 40 percent of enterprise data is "either inaccurate, incomplete, or unavailable," which leads to an estimated annual loss of approximately $14 million.
This is why it's so vital to have a clear understanding of what data governance is, and the different ways you should implement it.
If you're unsure of what data governance is, you should read our Ultimate Guide, but for now here is how we define it:
Data governance is the process of organizing, securing, managing, and presenting data using methods and technologies that ensure it remains correct, consistent, and accessible to verified users.
Data governance isn't as complicated as most people think, but it's still important to have a clear idea of the primary use cases. This helps you effectively implement and improve your existing and future data initiatives.
In this article, we will cover the following Data Governance use cases:
Collaborative analytics or building new data products
Data privacy compliance
Data discovery and data literacy provisions
Create a centralized repository of all standardized business terms
Centralized data access management
Are you ready to create a sturdy case for the ROI of a data governance program? Download OvalEdge Use Cases
Collaborative analytics or building new data products
When you're building a new data product, you need your data to be easily accessible, not just to the data team, but also to other business users.
Often, this simply isn't possible, because it requires specialist skills -such as SQL - to access and analyze the data.
Data governance removes this blocker by making it easy for anyone in the company to analyze the data meaningfully without needing someone else's help or technical training.
It also makes it significantly easier for the data team to collaborate on specific projects. Data governance tools make it simple to analyze data sets simultaneously, then share findings and results with key stakeholders.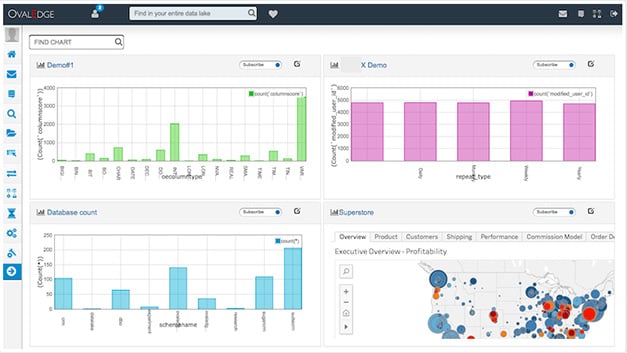 Fintech company Naranja X found that by implementing OvalEdge, they now get a much wider view of their product data:
Before OvalEdge integration, the Naranja X data team only governed a small percentage of the company's data. Now 70% of the organization's data warehouse is governed.
Related: What is Data Mesh? Principles & Architecture
Data privacy compliance
Over the last few years, there has been much more emphasis on how our personal data is stored, and what data is kept. And rightly so!
Companies have a duty to only capture the data they need, and only store the data they have permission to keep.
Regulations like GDPR, CCPA, and IAPP have been put in place to protect customers' PII (Personally Identifiable Information), but they also create a lot of risk for organizations.
Management consulting company Gartner predicts that 75% of the global population will have its personal data covered under privacy regulations over the next couple of years.
With the expansion of privacy regulation efforts across dozens of jurisdictions in the next two years, many organizations will see the need to start their privacy program efforts now. In fact, Gartner predicts that large organizations' average annual budget for privacy will exceed $2.5 million by 2024.
This can be a scary prospect for businesses, but it doesn't need to be. Data governance gives you the tools you need to protect yourself from risk, while doing what's best for your customers.
You can identify and report on where every piece of PII data is stored, even if it's been masked and protected. Data governance tools also help you solve complex problems, like Right to Know and Right to Delete, which can feel almost impossible when you've got large amounts of data.
It also simplifies the auditing process, by helping you organize and report all your privacy terms quickly and easily. At the high level, companies should be able to:
Identify where the PII is stored, where it came from, and its original source (if different).
Provide PII data to customers, if requested.
Delete customers PII data, if requested
Freelancing platform Upwork struggled to identify all the PII data stored across their various systems, until they used OvalEdge. Using our data governance tools, they found, classified and secured all their sensitive data in only a few weeks.
Related: Data Privacy Compliance: How to Ensure it and How it Can Benefit Your Business
Data discovery and data literacy provisions
A key benefit to capturing and storing large amounts of data is that you're able to identify critical information and will be able to build new data products. This can then be used to forecast, plan, and make decisions.
This isn't always easy, though, and often the data you need is split across various data sources. This makes it difficult to identify and analyze your data, especially for anyone without a technical background.
This process is much more accessible using data governance. Tools like OvalEdge will crawl all your data sources, and index the metadata of every file, table and report.
This doesn't just make it easier to access your data, but also empowers business users to carry out complex data discovery. Using the generated data catalog, they can search for individual records, research trends, and determine how to access critical information.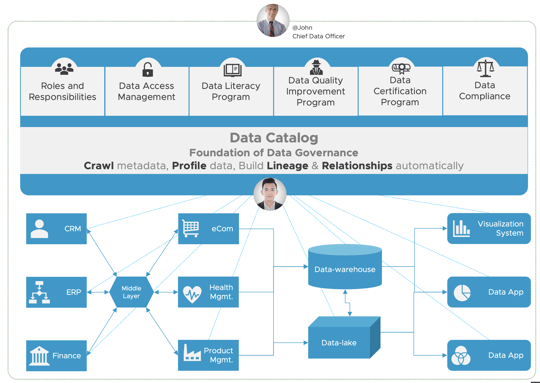 Making this data easier to access and understand also improves data literacy across your company. As Harvard Business Review reported in 2021, this is a huge problem for many businesses:
Ninety percent of business leaders cite data literacy as key to company success, but only 25% of workers feel confident in their data skills.
By giving people easier access to data using data governance, you will steadily improve data literacy across your organization. It also makes it much simpler to develop data standards, and communicate these standards company-wide.
Create a centralized repository of all standardized business terms
A lot goes into building and running a successful business, but it's fair to say that none of it would be possible without communication. Poor communication between colleagues, teams, and departments can cause countless problems, and sometimes be the difference between success and failure.
For example, Elon Musk's attempted Twitter acquisition recently was shrouded in controversy, as neither party could agree on the definition of a 'fake' account.
Unfortunately, when you have lots of people, everyone with different backgrounds and education, miscommunication is inevitable. But that doesn't mean there's nothing you can do to improve it.
One thing you can do is ensure everyone is on the same page when they use certain words, terms and acronyms. Every business has specific ways of talking about what they do, and it's important to define standard terminology in one place.
This might sound like a mammoth task, but it's actually a very solvable problem.
Improve data literacy across your company with OvalEdge
Once your data governance tool has generated your data catalog, it's easy to build a business glossary that everyone can access. This will include things like:
Terms and definitions
Data classification
Reference data
Technical metadata
Once this is done, you can share the glossary across the company, and continue updating it as the business evolves and grows.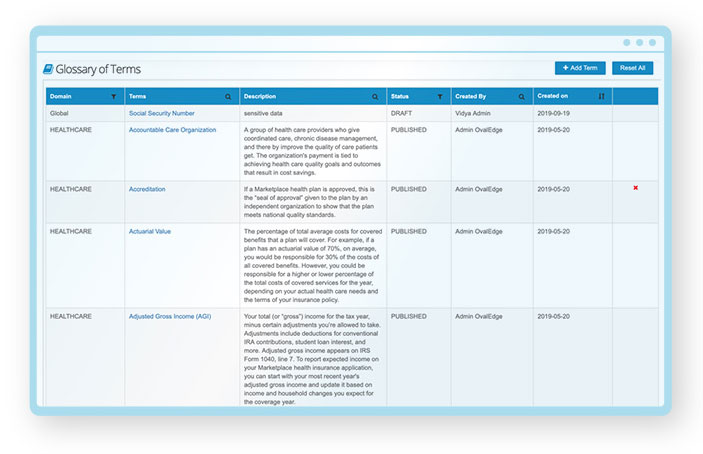 re provider successfully grew its business by acquiring and merging with other companies, but quickly realized this had created a problem. Business terms were being used inconsistently, which made it hard for everyone to communicate.
Using OvalEdge, they were able to solve this by building a business glossary of standardized terminology, giving the whole company access. This has helped them communicate more effectively, and make better business decisions.
Related: Building a Business Glossary - Why and How
Centralized data access management
As we've already talked about, there are many benefits to storing large amounts of data, but there is also a lot of risk.
You need to be very careful with who can access what data. If you're not, you can risk severe backlash from regulators and customers.
If your data is stored in multiple places, it's hard to ensure everyone has access to the data they need, and it can be difficult to carry out audits.
But if your data is all stored in one place, this has its own challenges. The biggest of which is the complex task of managing permissions so that no-one sees anything they shouldn't. This could be customers seeing another customers data, or audits missing key information.
This is why it's so important to have effective data access governance. You can manage access strictly and carefully, wherever your data is stored.
Using automation, discoverability and workflows, you can classify the data in your catalog, then design access policies to suit your needs. This gives you full control, based on your own custom categorizations.
Related: Data Access Management Basics & Implementation Strategy
For example, a large accounting firm needed to store financial data for companies spanning more than 34 countries. The challenge is that every country has its own tax laws and regulations.
If their audits returned results from the wrong country, it would cause big issues for the accounting firm and their customers.
Instead, they used OvalEdge for their data access management to mitigate this risk, and can manage their thousands of clients with peace of mind.
Need help convincing stakeholders of the importance of data governance? Download our free Data Governance Business Case Builder
How data governance benefits your organization.

What can you do to convince stakeholders of the importance of data governance?

How OvalEdge can help with your specific use case.

Download Our Trending White Papers
Schedule a Demo
Fill the information below to set up a demo.
OvalEdge Studied by Industry's
Top Analyst Firms & Thought Leaders