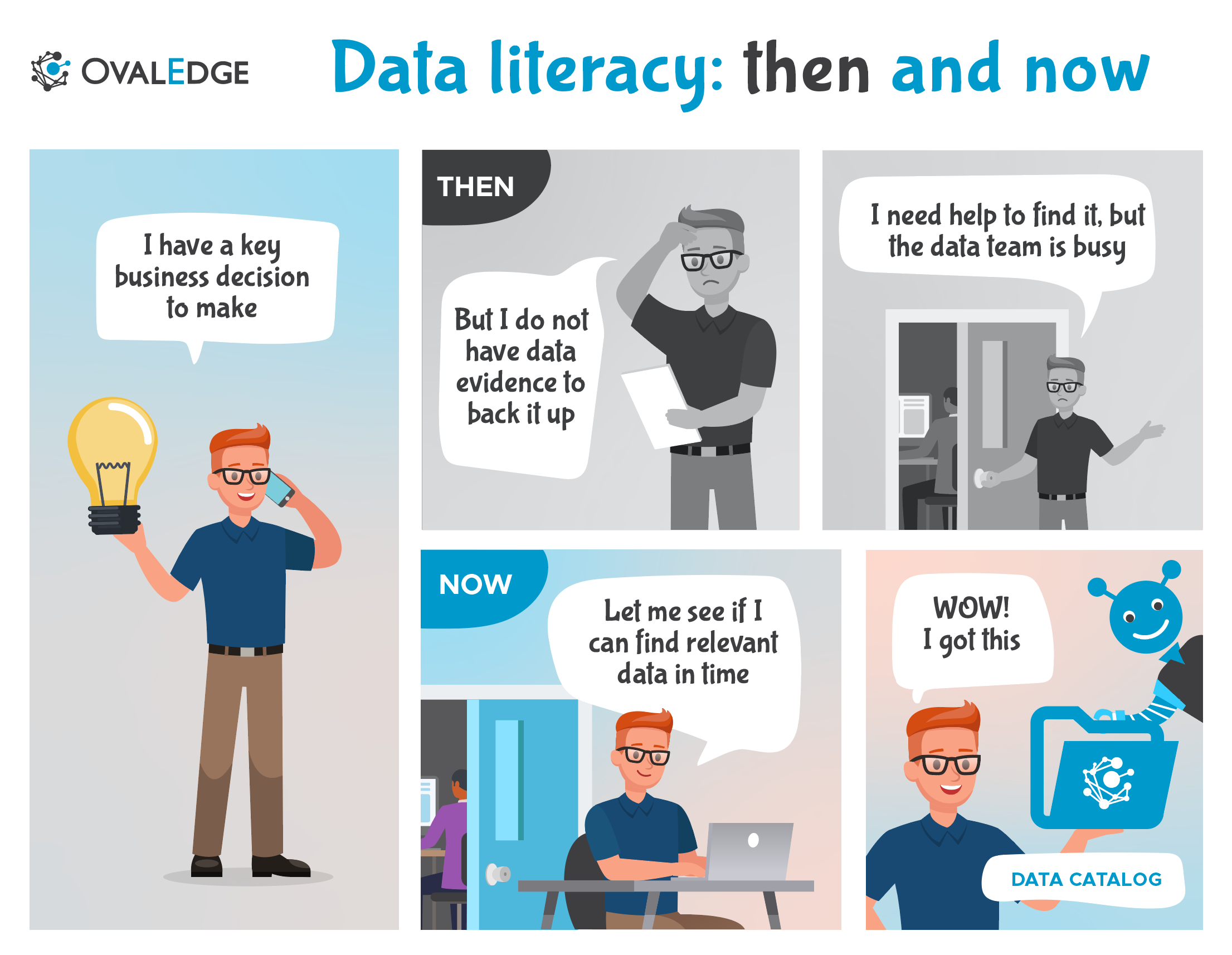 Data Literacy: What it is and How it Benefits Your Business
Data literacy ensures all data users within an organization are educated to a level that enables them to consume data with confidence within a specific business context.
What is Data Literacy?
In essence, data literacy is about making users that are not part of an organization's data team more data literate. It's about educating regular business users about the information available to them and organizing this information in a way that makes it easy to identify and consume.
When a data governance team acknowledges the importance of data literacy in an organization's data governance strategy, the result is a well-defined data catalog that any member of staff can access.
When they don't, many users are left without access to important data impeding their ability to perform professionally and contribute to the overall growth of a data-driven company.
Without widespread data literacy and clearly defined data terms and frameworks, communication channels can break down—and the results can be catastrophic.
Related: Data Catalog - The Ultimate Guide
Why is Data Literacy important for your Business?
Data is the fuel that drives the growth of the world's most successful companies. To have a team dedicated to data is a potent asset, but give everyone in an organization the tools and to access and use this data and you can transform a company from the inside out.
Business users who are aware of the data that exists within their company can ask better questions based on it, find better answers using it, and come up with more targeted solutions for growth.
Small-to-medium-sized companies constantly make decisions based on KPIs from various sources and adequate data literacy ensures everyone is aware of the terms used to define them.
It's down to data scientists to organize data and catalog it in a business glossary. Here, users can discover the specific data terms used by their organization and access the information they need to do their job to the best of their ability.
Education is the key to progress, and data literacy, in a business context, is the educational process required to drive the growth of a modern, data-driven company.
Related: Building a Business Glossary - Why and How
How Data Literacy can benefit your Business?
A number of frameworks have been developed over time by various institutions, including DAMA and Stanford University, that help keep data well-organized.
Well-cataloged data is easier to find and work with and data organization is one of the key components of a data literate organization.
A comprehensive data literacy strategy also enables companies to avoid any confusion or mixed messaging. For example, if various developers within an organization create databases for different topics and assign different terms to define key performance indicators (KPIs), no one will be able to use the data effectively.
In fact, misinterpretation of data can be disastrous and have far-reaching consequences. One of the most famous examples is the well-publicized tax row between the Indian government and telecoms giant Vodafone.
The Indian government claimed it was owed billions of dollars in tax based on a particular revenue number for the company's overall turnover. Vodafone disputed the claim, countering it with another number based on a specific license to operate in the country.
The dispute went to the supreme court and threatened to tear down India's telecoms industry—and all because neither side was aware of the correct definitions. This is a big example, but cross-communication errors like this occur in the workplace all the time.
Who is Data Literacy for?
Although data literacy protocols are managed and developed by data scientists and the wider data governance team, it's business users who benefit most from them.
Data literacy is a key business intelligence (BI) process and data-literate employees are a huge asset to any organization that collects and uses data in its operations.
Related: How Chief Data Officers overcome three key challenges they face
Implementing Data Literacy Protocols—Call in the Experts
Before implementing a data literacy program your data team needs to ask three key questions:
How can we organize our data so people can find it easily?
How do we find and determine which terms are necessary for our company?
How do we achieve consensus on, define, and present these terms?
How do we provide universal access when confidential user data is included in the data catalog?
To achieve the first goal a company must have a capable data discovery platform in place where all of its data can be organized and accessed.
For the second requirement, data teams must identify and then catalog the most used terms. This catalog should provide any user who accesses it with all details regarding the usage of this information.
To accomplish the third goal the key is to focus on the most common terms and then find the users of those terms. From these users, companies should create a governance committee to achieve consensus on how the top terms should be defined.
For the fourth goal, you have to be aware of which data is confidential or private and the access levels that can be assigned to different sets of users. The most common way to do this is to classify the data.
The next step is to put these terms into a data catalog where they can be presented in a searchable format for all members of staff.
The OvalEdge Solution
Our data catalog enables your employees to find and understand data with ease.
Staff can use natural language to search for terms or just browse a series of well-categorized tabs to find what they're looking for.
Multiple advanced options make it possible to view data statistics, find out about data relationships, access user's tribal knowledge to gain a deeper understanding of a data set, track data lineage, and much more.
The OvalEdge data catalog is easy to navigate regardless of skill level. It's a one-stop shop for data literacy.
Learn more about our easy-to-use data catalog and data governance tool kit. Get in touch today and find out how OvalEdge can streamline your data governance strategy.
What you should do now
Schedule a Demo to learn more about OvalEdge
Increase your knowledge on everything related to Data Governance with our free Whitepapers, Webinars and Academy
If you know anyone who'd enjoy this content, share it with them via email, LinkedIn, Twitter or Facebook.
Download Our Trending White Papers
Schedule a Demo
Fill the information below to set up a demo.
OvalEdge Studied by Industry's
Top Analyst Firms & Thought Leaders