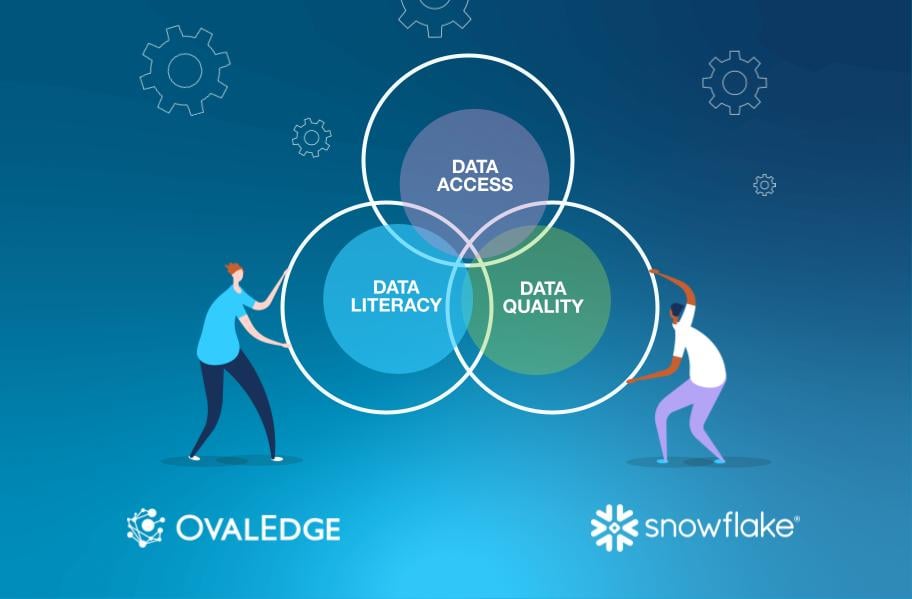 How End-to-End Data Governance in Snowflake Supports Business Agility
By Mahesh Nagineni
, Sharad Varshney
,
Posted November 13, 2021
In Data Governance
Data governance is a comprehensive, collaborative process that brings business, compliance, and IT teams together. Collectively, they can ensure data is not only secure but readily available, of high quality, and trustworthy across the multiple applications used by various business units and numerous data platforms.
In light of this growing trend for cross-departmental collaboration on data governance initiatives, two industry leaders, OvalEdge and Snowflake, have entered into an exciting partnership. On the one hand, Snowflake provides a highly scalable platform to bring data from various sources and governance features to ensure that the data is secure and compliant.
On the other hand, OvalEdge connects the dots between application data and data on the Snowflake platform. It ensures data is easily discoverable by business users. It makes data verifiable to promote trust in the system. And introduces various business processes to ensure data access and data quality is maintained across the data ecosystems.
Data in the Snowflake must be governed collaboratively
Organizations want to generate the maximum value from their data. However, to do so, they must bring data from various applications like CRM and ERP platforms into one scalable data platform where business users and data teams can query data together to derive the most value.
Snowflake can store almost infinite amounts of data and provide a way to query it, but data must be governed with the same logic used in a CRM or ERP application. For example, a user can log in to an HR application to see their salary. In contrast, a member of the HR team can view the salary information of all the employees in an organization.
This is why access to data in the Snowflake platform must be governed collaboratively between the business, compliance, and IT representatives responsible for various applications. This type of business process is considered Data Access Governance.
Here is a video on OvalEdge & Snowflake Integration which walks you through features like masking, tagging, and object history in OvalEdge on Snowflake data.
To implement this kind of governance, it's essential to work with business users, and for that, you must ensure they are data literate. They should have the ability to map their application data—where they generally view data—to data in Snowflake and provide clear and consistent data definitions to make it identifiable. This data governance process is known as Data Literacy.
As data moves from applications into a Snowflake warehouse and delivers value through various use cases, its quality must be tracked and verified. For example, if a CFO reports an organization's numbers to Wall Street, the entire process must be verifiable because the consequences of misreporting are dire. The process of verifying data quality transparently is called Data Quality Management.
Data Access Governance
It's almost impossible to transfer the exact logic from an application into a data warehouse. However, together, Snowflake and OvalEdge provide a comprehensive, easy-to-deploy access governance solution for Snowflake data.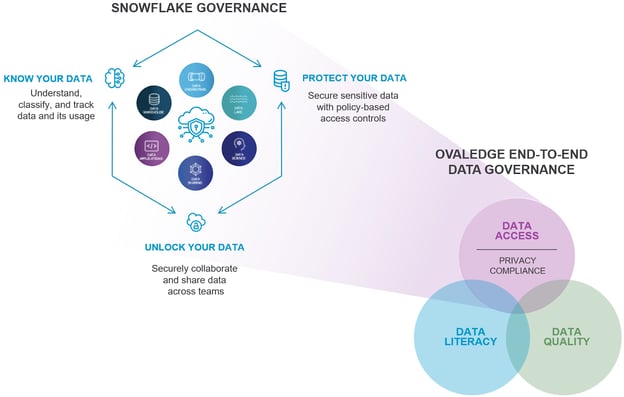 OvalEdge's data protection approach complements the three pillars of Snowflake's data governance strategy: know your data, protect your data, and unlock your data.
Know your data
Users must know data in a variety of ways. First, it must be clear what the data contains (metadata). Second, users must be able to identify security provisions. Can everyone access the data, or is it intended for a selected few? This security knowledge also enables users to understand the data from a compliance perspective.
At the platform level, Snowflake provides users with a way to tag data. However, OvalEdge delivers a comprehensive UI to map business applications to Snowflake data so both business and technical users can understand its metadata.
Furthermore, OvalEdge provides business processes and AI to classify the data for security and compliance reasons, enabling an organization to classify all its data within weeks.
OvalEdge also supports a native integration to share these tags with Snowflake. Once you identify and classify the data, it will be tagged in Snowflake automatically. This process provides a way for Snowflake users to understand data assets easily.
Protect your data
Once classified, Snowflake must protect data based on its classification and security policies. Organizations can configure these policies either in OvalEdge or Snowflake. Once configured, OvalEdge uses Snowflake APIs to protect the data in Snowflake. These APIs include row access policies, dynamic data masking, and external tokenization.
This phase is also the integration point. While Snowflake provides column-level masking and row-level security, data management takes place in OvalEdge through its graphical user interface (GUI) and various business processes.
For example, Snowflake may flag up that a user has specific permissions in their role. However, without a business process that determines who gives these permissions, governance is problematic. OvalEdge takes care of this through various policies, which are automatically transferred through Snowflake's policy access management and security features so users can view the governed data in Snowflake.
Related: Data Security in Snowflake Via OvalEdge
Unlock your data
Snowflake provides the technical capabilities to unlock data and make it available to users when it's required. However, this access is determined by well-defined rules and policies, and although this enables automation, there is no room for Ad Hoc access permissions. This is where OvalEdge comes in because these processes can be completed quickly and on an Ad Hoc basis.
For example, suppose someone in HR realized they had no permissions to view the salary information they needed for a project because they were an analyst and not a manager. In that case, they could request it from a supervisor for a limited period. Users can quickly complete this process in OvalEdge.
OvalEdge also unlocks data in other ways through its easy-to-use GUI. In this space, users can share and collaborate on data assets seamlessly.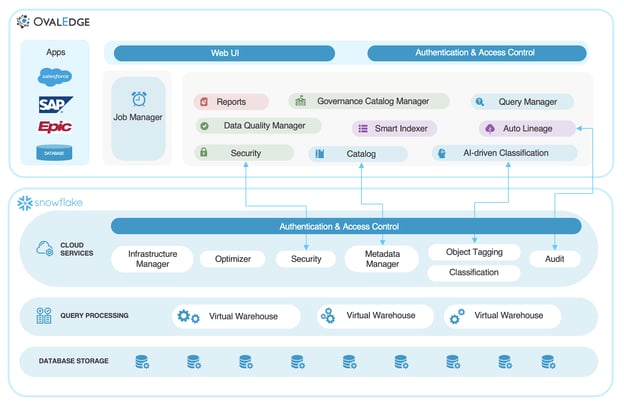 Data Literacy and Data Quality Management
Along with Data Access Governance, OvalEdge supports a comprehensive Data Literacy program. The OvalEdge data catalog can crawl all of a Snowflake user's data, categorize, and tag it to make it discoverable.
When users can find data easily, data literacy increases over time. OvalEdge enables this simple data discovery and, crucially, collaboration on data assets.
The OvalEdge Data Quality Management program focuses on the lifecycle of data, ensuring its trustworthiness. Snowflake customers can leverage these data quality improvement capabilities using Snowflake's processing power.
When users trust data, they are more likely to use it to make business decisions. These data-driven decisions are critical for growth in a competitive marketplace.
The Perfect Team
Organizations choose Snowflake as their default data storage cloud because of its scalability, flexibility, and unparalleled query power. OvalEdge is a go-to data governance solution thanks to the platform's flawless business processes across all applications, databases, reporting systems, and of course, Snowflake architecture.
Together, OvalEdge and Snowflake can deliver a complete solution for data warehousing and progressive data governance.
What you should do now
1 - Schedule a Demo to learn more about OvalEdge

2 - Increase your knowledge on everything related to Data Governance with our free Whitepapers, Webinars and Academy

3 - If you know anyone who'd enjoy this content, share it with them via email, LinkedIn, Twitter or Facebook.
Download Our Trending White Papers
Schedule a Demo
Fill the information below to set up a demo.
OvalEdge Studied by Industry's
Top Analyst Firms & Thought Leaders