Data Governance: What It Means and What Are Its Drivers
If there's anything that's defining thriving businesses today, it's a strong understanding and strategizing the use of a company's data.
However, it brings up a whole range of questions, from both users and stakeholders- What data exists in my company? Where is it stored? What is the best data for my problem? When you have figured that out, more questions arise- How do I access it? Can I trust it?
A data catalog takes care of finding and understanding your data part effectively. Providing and monitoring data access, ensur
ing data quality and data protection – all come under data governance. Now a data catalog is combining the capabilities of a data governance toolset. The merger of data cataloging and data governance in a toolset is very opportune. That is because their functions are so intertwined.
What is Data Governance
When we talk about data governance, some people say that it is a set of procedures and policies, while some talk about data management. Various vendors in privacy and cataloging try to sell their software as Data Governance software.
According to Lights on Data, "Data governance enables businesses to exert control over the management of data assets. This process encompasses- the people, process, and technology that is required to ensure that data is fit for its intended purpose."
Simply put, data governance is the process of providing and monitoring data access, ensuring data quality and data protection.
When we talk about data governance following terms often appear in the conversation. For a better understanding, I am defining them briefly.
Data Discovery – the act of finding relevant data from the data assets which exist with the company and understand it quickly.
Data Lineage – is a graphical representation of how and where the data originated and its processing logic and destination.
Business Glossary – is a repository which enables data stewards to build and manage a common business vocabulary across the company. A business glossary can contain many data dictionaries.
Data Dictionary – is a repository which defines data elements, their meanings, and their allowable values. While a data glossary is enterprise-wide and should be created to improve business understanding of the data, data dictionaries are more technical in nature and tend to be system specific.
PII – Personally Identifiable Information
Data Privacy Compliance – is a company's conforming to personal information protection guidelines or regulations. GDPR (General Data Protection Regulation) and CCPA (California Consumer Privacy Act) are two such regulations.
Master Data Management
Data Quality – Data quality is a perception or an assessment of data's fitness to serve its purpose in a given context. The quality of data is determined by factors such as accuracy, completeness, relevance and how up-to-date it is. (Source: WhatIs.com)
Data Steward – Data steward is a role which helps to provide business users with high-quality data that is easily accessible in a consistent manner.
Every organization is looking for a solution to its data-related problem from data governance. This means that if you talk to directors or CDOs from different companies, their understanding of data governance would be different since their challenges are different.
Why has data governance suddenly become so important?
Many people will have this question in mind at some point. Although data in electronic form has been in existence since computers, Data Governance has become a hot topic in the past few years.
This is because we are moving from cumbersome centralized applications to SAAS-based, easy-to-use applications.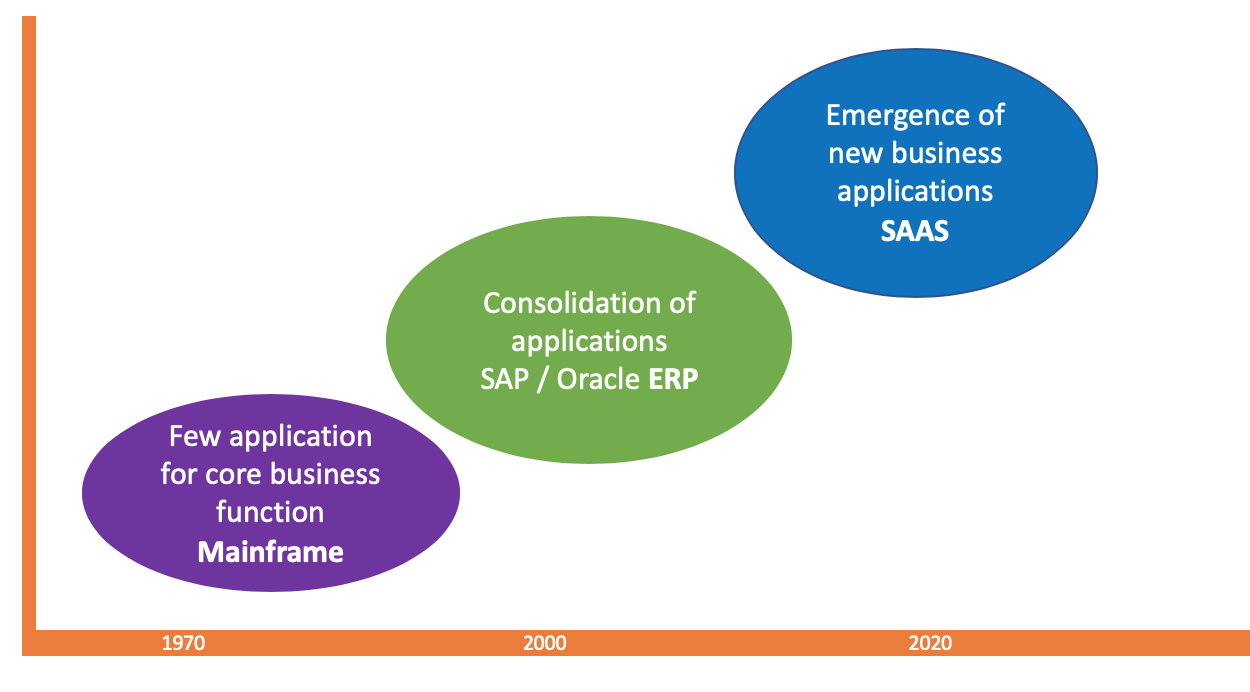 The emergence of SAAS, digital marketing, and sales applications has created a new wave of siloed applications. When you have only one application to do an entire business function (i.e., SAP), you don't have any governance issues since SAP is providing the solution. However, when there are multiple applications, there will consequently be various data challenges.
In the below sections, you will see how BI/Analytics & Compliance has complicated the need for automated and structured data governance.
Data Governance Drivers
For effective data governance, it is vital to understand what factors are driving data governance to point of urgency.
Master Data Management
When we have multiple applications doing different business functions, they always require common data, like customers, employees, chart of accounts, and materials. To overcome challenges in the enterprise, the IT department generally ensures that one application is the master of a specific data element, while others are only used to deal with customer prospects. It is essential to integrate these applications and have a single sign-on.
A typical organization has about 100+ applications doing different business functions. During the implementation of these applications, leadership makes decisions about the master data record and then integrates one application with other applications.
Buying and implementing a new application is typically a joint (IT/Business) function. The project team makes sure that the master data is kept in only one application. However, there are various other drivers, such as merger & acquisition and rapid growth, which create multiple source systems for the master data.
For consolidating master records, an IT project is created, and specific tools are used to manage them. These types of projects are expensive. As a part of the project, an entire governance exercise is conducted. In most cases, all of the stakeholders and consulting companies are involved in solving this challenge.
Integrations
With multiple applications doing many business functions, it is of great importance to integrate them. For example, the CRM system may need to combine with the financial system to complete the purchase and invoicing process.
As data flows during the integration, it requires management. These integrations are mostly custom written and need support from IT staff. This issue can also be referred to as a data governance problem regarding business rules. Generally, a support team is incorporated. Its job is to manage these integrations.
BI & Analytics
We can provide BI & Analytics in two parts. The first is providing answers to on-going questions from the management while the second is enhancing customer-facing or internal applications with analytics.
Some questions would include. 'How many sales were conducted this quarter?' "How much were the expenses or profit?" This data aggregation is known as as BI / Reporting. On the other hand, when a customer logs in, and you provide him with information about new products based on his or her past behavior. This is the outcome of analytics.
An exceptional example of analytics is the Amazon product recommendation process.
As BI and Analytics are becoming more prominent, every business unit is hiring their own data scientists. With the growing abundance of data, it is becoming challenging for them to provide access to data and knowledge about that data. Hence, most of the business units are demanding automated data governance.
Compliance with Data Privacy and Financial Regulations
GDPR and CCPA are some new regulations to which companies have to comply with. These regulations have strict rules that deal with how organizations can capture and store customer data.
These regulations not only deal with individual data elements but also go to cookie-id or any mechanism which can track a customer's behavior.
As companies store various kinds of data in different databases, they need to manage the data and all the problems associated with it because of compliance.
Data Quality Assurance
All of these needs are driving data governance to the point of urgent necessity. They all have different business requirements and are looking for a solution.
What you should do now
1 - Schedule a Demo to learn more about OvalEdge

2 - Increase your knowledge on everything related to Data Governance with our free Whitepapers,

Webinars

and Academy

3 - If you know anyone who'd enjoy this content, share it with them via email, LinkedIn, Twitter or Facebook.
Download Our Trending White Papers
Schedule a Demo
Fill the information below to set up a demo.
OvalEdge Studied by Industry's
Top Analyst Firms & Thought Leaders