Eckerson Group: Deep Dive on Data Governance Platforms
Three Products to Consider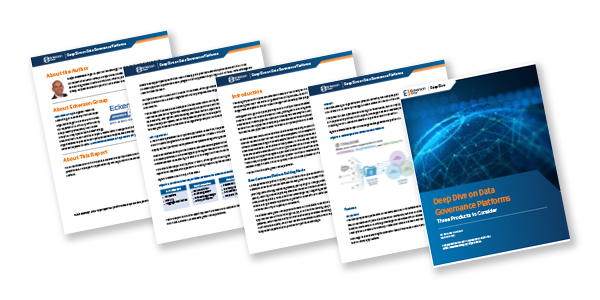 "Data governance platforms have become the gateway into the corporate data oceans, lakes, and warehouses. Equipped with the most advanced machine learning algorithms, they can suss out hidden relationships between data elements across business units and tag arcane technical assets with business-friendly terms. As a result, these products are being used to democratize the vast amounts of latent data and unlock their potential."
Sanjeev Mohan, Eckerson Group

OvalEdge is recommended for:
Use cases that have a wide range of governance needs, such as deep lineage, data quality, security and privacy, and data access governance. OvalEdge provides these capabilities in a single platform.

Flexibility to rapidly address users' unique needs and remediate issues in a timely manner. Being the smallest of the three companies covered in this report, they are nimble to work with.

Cost-conscious buyers. OvalEdge is priced lower than many of its competitors. OvalEdge enables customers to incrementally deploy the solution in an iterative manner.
OvalEdge Studied by Industry's
Top Analyst Firms & Thought Leaders